Joey Robert Wettach (1966 - 2007)
In June 2007, Joey Robert Wettach died. His wife, Anna Wettach, writes:
"He leaves behind his wife and best friend for 15 years, Anna Wettach and his proud parents, Walter and Chong Wettach. He was an amazing father to six beautiful children; Joseph, Jerica, Jordan, Jovan, Jenaya, and Jazilyn. He also leaves behind his sister, Jeanie Terico and his three nieces, Toni, Stephanie, and Zoe. Friends from all over the world miss him dearly.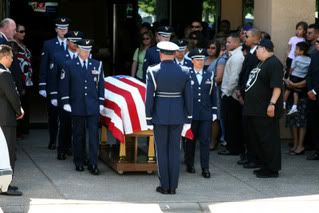 Reminiscing with your "Brothers" has shown me of the good times you've had and of the great man that you are. Too early, too soon, but we were blessed to have had you in our lives. The Love, the memories and the stories from your years on Earth with us will be told over and over again to bring smiles to our faces and joy in our hearts. We love you..........I love you......forever and always, Anna."
[
Source: JoeyWettach.MemoryOf.com
]
Labels: anna wettach, CA, chong wettach, jazilyn wettach, jeanie terico, jenaya wettach, jerica wettach, joey robert wettach, jordan wettach, joseph wettach, jovan wettach, obituary, usa, Walter Wettach